Hands On Pivot Les Fat
March 7, 2015
This week has brought a perfect combination of things together at Charleston Bicycle Center: a foot of heavy, wet snow and the Pivot Les Fat! Ours came stocked with a SRAM X01 drivetrain and immense potential.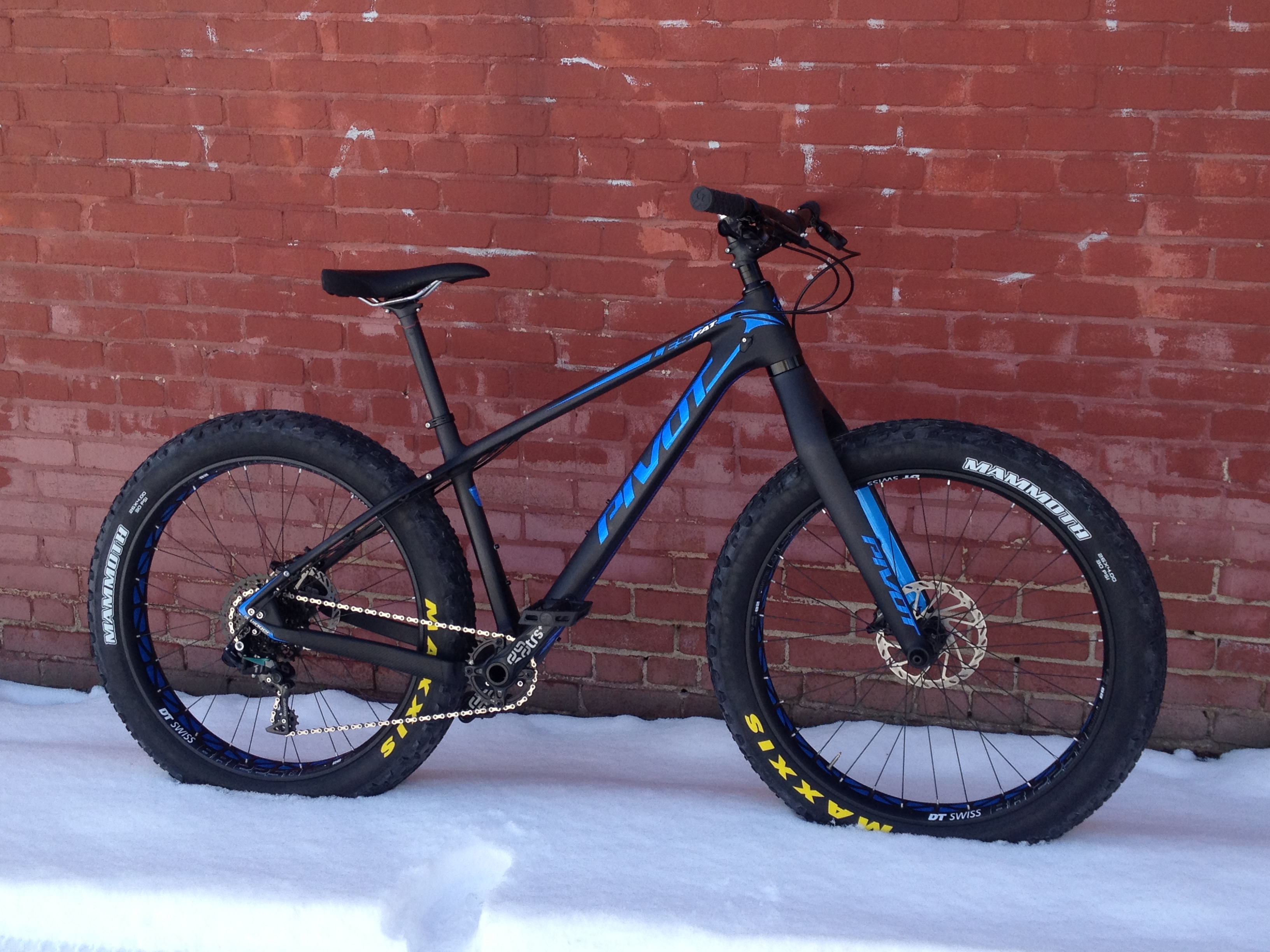 Our first impression out of the box is how light the frame is - wow! And then, as we pass it around, we begin to notice how striking the paint is on the massive downtube. In all honesty, the downtube looks like it was molded after a 2 x 4 left over from a building project at Pivot's headquarters. We slowly realize that there is only blue paint on the frame, and there's a gorgeously subtle iridescence found if you gaze into the satin-finish carbon covering the rest of the bike. Bonus points for creating a beautiful bike, but that's only the tip of the iceberg with this bike.
Next we put it all together. As we have come to expect, Pivot has created a top-notch two-wheeler. The craftsmanship and quality are impeccable - assembling this bad boy was a privilege! The Les Fat comes stocked with SRAM X01 components and a custom e*thirteen crank, co-designed to fit the outrageously wide bottom bracket shell. The brakes are SRAM Guide R four piston hydraulics - sufficient stopping power, but no unnecessary frills. With the way the bike rides, we don't think you will want to stop anytime soon. And, because we know you're all thinking it, we hung it up on the scale: just 26 lbs 11 oz. That's light for a regular mountain bike, and just ridiculous for a fat bike!
And then there's riding the Les Fat, and we just so happen to have about a foot of wet snow on the ground. Just taking it through the empty lot beside the shop is enough to tell that this bike knows what it's doing riding over snow. Up and down the bank, leaning into curves, or just goofing off in the snow the Les Fat is at home. We ran about 2 psi for out test ride, and the tires just seemed to stick when we stayed on the saddle. We can't help but wonder about the possibilities with this bike: 26 x 5.0, 27.5+, 29+ wheels and a RockShox Bluto will all work with this bike, thanks to some crafty engineering and the patented Swinger rear dropout. Let that soak in for a minute, and we'll stay busy riding the Les Fat before all the snow melts off.